One of the leading Japenese car manufacturer Honda released some of the pictures of it's new upcoming Honda Brio based Saloon on it's Thailand website ,which is expected to launch in the mid of 2013 close to the month of April approximately.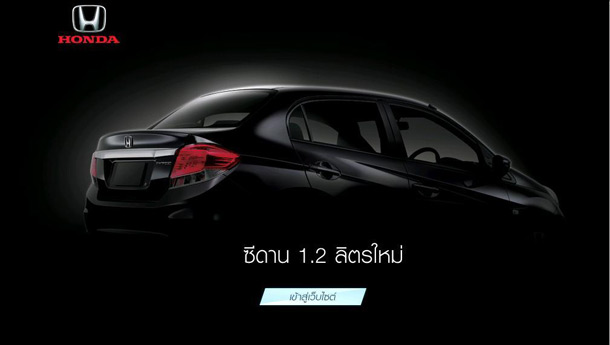 The New Honda Brio Saloom is expected to be configured with 1.5-litre engine, this engine was mainly developed for the Indian market and from here it will be exported to other market as well. One of the Major engine components will be made in India only. Nothing much is known about the powertrain and the torque figures, but it will be expected that this motor will be made available in different states for cars like the Brio, Brio saloom.
Power-train could range approximately in the region of 70 bhp to 110 bhp with torque range across 17 to 22 kgm. It is expected that this car may come with four cylinder engine and could feature Honda's i-DTec technology. It is likely to be made available only with a manual transmission at a moment, but later this motor will be the main-base of Honda's diesel offerings in India.
With 1.5-litre engine it will give a better power output and a descent mileage. The New Honda Brio will be made available with the 1.2-litre i-VTEC petrol engine as well.