Jaguar's Cars Limited, familiar as "Jaguar" is a British luxury and sports car manufacturer from England, a fully-owned Subsidiary of India's biggest giant in automobile industry,"TATA MOTORS" showcased their new visionary product in luxury car segment as,"Jaguar XFR-S" at Los Angeles show.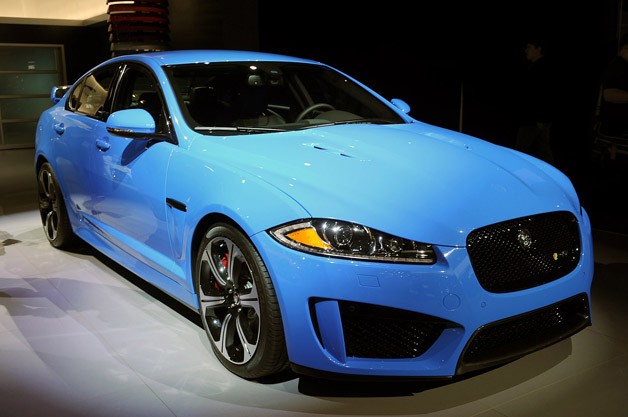 Jaguar XFR-S is one of the fastest, most powerful and buoyant sports saloon company has ever built. Jaguar XFR-S is powered with 5.0 Litre supercharged V8 Engine producing tremendous output of 550 horsepower with 502 pound-feet of torque-power. Jaguar XFR-S is fitted with 8 speed transmission consolidated with 'Quickshift' technology developed by Jaguar engineers. Some of the company officials claims," that Jaguar XFR-S encumbered with such increase in power output will accelerate to 60 mph in just 4.4 seconds and 0-100 km/hr in 4.6 seconds, plus it delivers a top speed of 186 mph(300km/hr)". Specifying towards body changes, Jaguar XFR-S is created with a explicit assertive appearance, the front bumper will feature larger lower air intakes, vertical vanes and carbon fibre front splitter adding finish in it's styling. Deeper sills and unique 'aero-blades' ensure a clean passage of air along the side of the car and on to the deeper rear bumper sides while a carbon fibre rear diffuser between the signature quad tailpipes extends underneath the rear of the XFR-S to reduce lift. Jaguar XFR-S points with a unique 20-inch lightweight forged alloy 'Varuna' wheels with wider front and rear and are shod which is specially developed with Pirelli rubber, delivering XFR-S a more mammoth stance with it's increase in grip and stability.
Adrian Hallmark, Global Brand Director,on this occassion stated: "Sporting character is evident in all Jaguar saloons. In the XFR-S that character has been amplified, the result being a truly engaging car with a combination of technical innovation, assertive design and staggering performance that will satisfy the most demanding of drivers."
Dealing with the interiors, Jaguar XFR-S have carbon-printed leather seats bolsters and arm rests and a Dark Aluminium fascia, both of which are exclusive to the R-S range. Providing a further unique touch are a choice of contrasting colour stitching and micro-piping which can be matched to the exterior paint scheme. Andrew Whyman, Chief Programme Engineer stated 'In developing the XFR-S the engineering challenge was to extend the considerable dynamic abilities common to the entire XF range. The bespoke chassis, powertrain and body enhancements meet that challenge and give the XFR-S its focused performance edge.'
Jaguar XFR-S is expected to launch in March 2013 as stated by the company officials. Starting price of Jaguar XFR-S will be Rs 54.77 lakh, excluding duties.